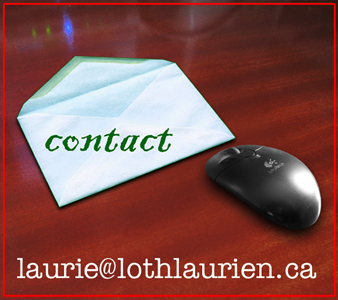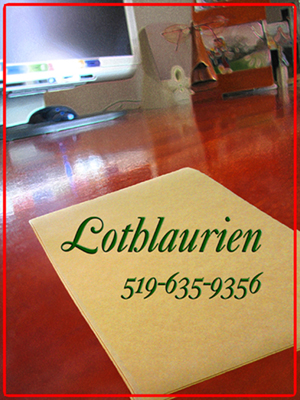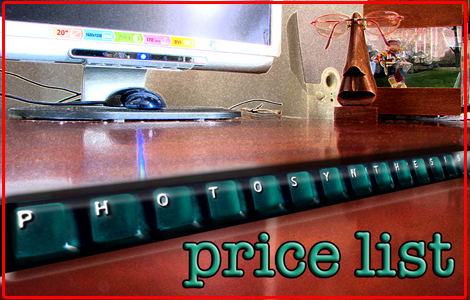 Lothlaurien Services
All photographs are not created equal.
Due to the unique characteristics of each photograph, it is impossible to determine a price before assessing your original.
PHOTOSYNTHESIS Retouch
remove red-eye
remove visible marks blemishes
whiten teeth
alter framing/zoom/crop
correct colour and contrast
transform color to black & white, or sepia tone
priced from $20.00
PHOTOSYNTHESIS Restore
remove dust, scratches, creases, stains and tears
correct fading and discoloration
reconstruction of damaged background and edges
reconstruction of damaged facial features
redefine image dimensions to accommodate standard photographic frames
priced from $50.00 for a minimal restoration
to $300 for extreme reconstruction.
But the thrill we've never known
Is the thrill that'll get you when you get your picture
On the cover of the Rolling Stone
— Dr. Hook
PHOTOSYNTHESIS Magic Pictures
PICTURE PERFECT:
Now you can change the past.
* We can magically alter or remove backgrounds, people & things in your photos!


MEDIA MAGIC:
You can make the cover of Rolling Stone!
(or TV Guide, or LIFE, or Action Comics...)
with a PHOTOSYNTHESIS MOCK MAGAZINE COVER
or
* we can PHOTOSYNTHESIZE your picture into a MOCK MOVIE POSTER!


ZOOM PORTRAIT:
* Zoom in to create an individual portrait out of a group photo!


TIME WARP:
Break the time barrier!
Mix different generations or eras in a single photograph!
priced from $50.00
Lothlaurien.ca/rds: Art & Graphic Design
ORIGINAL ARTWORK
Logo design
Cover art for your

Original DVDs,
Original CDs
Publications
DESIGN and LAYOUT
Original Personalized Greeting Cards
Original Poster Design
Original Sports Cards
Web Page Graphic Elements
Collage Creation
Digital matting & framing
and best of all,
we're open to your ideas!
PHOTOSYNTHESIS provides clients with digital copies of the work at no additional cost.
Clients are free to have as many prints made as needed at their local print or photo shop.
We honour our price quotes.
For more information, or to place an order please contact
laurie@lothlaurien.ca